When searching for homes for sale, physicians are often interested in upscale neighborhoods in close proximity to area hospitals. Because most physicians have on call responsibilities they will want a personal residence that has a short drive time to not only their medical practice office or clinic but also to the hospital where they admit patients.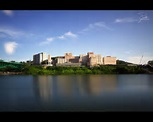 Young Physicians, Residents and Fellows
For physician's who are still in training or just beginning their career in medicine, a concern when purchasing a home is often locating a funding source to allow them to purchase a home. A typical home buyer secures funding that is a conventional home loan or a government backed loan. The conventional mortgage is insured by a private company. Government agencies like the Federal Housing Administration (FHA) and the Department of Veterans Affairs (VA) insure home loans, which are made by private lenders. This insurance is paid for by fees collected from mortgage borrowers. These loans require strict income and credit requirements.
Many new physicians find themselves with a high income, a small mountain of medical education debt, very little savings, no work history and limited net worth. They've invested many years into medical training and delayed purchasing a "forever home" until now. Having a real estate agent who is familiar with these situations and has access to lenders who specialize in physician lending or portfolio loans is vital. Often these programs do not require private mortgage insurance and allow for low down payments.
Established Practicing Physicians
Established physicians with strong earnings, high salaries and high net worth are not as effected by stringent lending standards, high property taxes or luxury home prices as their newer colleagues. They are often more concerned with quality of life issues that affect their families. Access to specific schools, recreational amenities like nearby parks, neighborhood ammenities such as a swim or tennis team, strong real estate values and social amenities such as exclusive clubs and high end dining venues are common in their home searches. We can provide information about taxes, schools and community features and help locate very specific properties to make the home search pleasant. We also have close working relationships with area medical practices, clinics and hospitals and are prepared to conduct both virtual tours and on site tours when physicians are interviewing for a new practice opportunity.
Senior Physicians and Retirees
Senior physicians and those approaching retirement may be considering downsizing their personal homes. They may wish to consider upscale condos or townhomes in country club communities or retirement communities. We are prepared to work around the physician's schedule and help them make an informed decision that meets all of their family and social needs.
Investment Property
We are either actively representing investment properties or can mount a search to meet the investment needs of any physician. Fortunately, the proximity to the Great Smoky Mountains and the University of Tennessee is a constant draw for the city of Knoxville and surrounding areas. We are often asked to assist local physicians with finding suitable properties that can be used as a vacation home or seasonally rented for secondary income. Another frequent request is to help locate quality rental properties in the vicinity of the university.
In every case, Knoxville Living is designed to help doctors and other medical professionals find preferred real estate by offering custom real estate services including virtual property tours and in person community tours.
Knoxville Living is the right prescription for physicians looking for the perfect home. If you are considering buying or selling a home in the Knoxville area and we can be of service to you, please get in touch with Paula or Deanna at KnoxvilleLiving.com